Do you tend to feel hot? Even though the summer is ending. Inside you can still get hot and need something to cool you down without turning on the AC. If you're planning on going outside the day can still get hot even in these last few months before winter hits. So, why not have a portable fan to keep you cool?
When its hot outside it can become inconvenient and even uncomfortable to head outside. Sweat can run into your eyes that quickly becoming irritating. On a still day with the sun beating down there's no relief from a stray breeze to keep you cool. This is where a portable fan comes into play. When you have a portable fan you don't have to worry so much about the heat. You have a constant stream of air flowing over your face. Replacing the hot air around you so you can cool down.
How The Portable Fan is Taken Above and Beyond
Have you ever owned or seen previous portable fan models? Perhaps you see small ones that hang around your neck, but don't do much in the way of keeping you cool? The fan is usually pretty loose and is perfect if you're waiting in line or sitting on a bench. Our fan is different since its meant for people who need a fan when doing active sports or other activities. So, we made a more innovative and newer fan for people to use.
Cool on the Go is all about keeping you cool. Basically, it's a personal fan that does not have an exposed blade like other portable fan models. Already this eliminates some major problems with other personal fans like getting tangled in hair, hitting someone, and other issues. Their lightweight design and sleek look means you can enjoy being cool no matter where you are.
Another aspect of our portable fan you can enjoy is that their designed for people at work, exercising, sporting events, and even outdoor areas. That is only a handful of examples on how you can use our personal fan.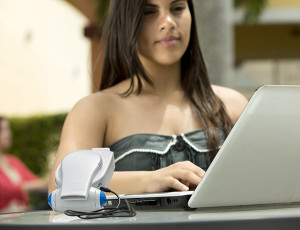 Battery Operated
One of the neat features about our mini-fan other than its ability to clip to your belt, desk, etc. It has a blade less operation along with being battery powered. It even features a D/C plugin for those times you want a nice flow of air, but don't want to waste the battery. Batteries can be a pain to replace on their own. Replacing batteries constantly can cost a pretty penny overtime. Being able to have an option to plug your fan in saves a lot of time and money on your part in the long run.
If you're willing to do it. You can even use your Cool on the Go unit while working out. There are features like the lanyard. Leaving your hands free to do what you want as the fan cools you down. Even if you're out working in the field or at your desk. You have a nice way of staying cool.
Decorate Your Fan to Fit Your Look
If you haven't already noticed. The Cool on the Go unit has two blue end-caps on it. These end-caps serve no purpose except. They are just there to finish off an already amazing device as it is. There are other products our companies sells including different colored end-caps. The end-caps on the portable fan we sell can be removed and replaced with these different colored end-caps. You can use any of the colors we have available to represent your team, school activity, or anything else you want to celebrate. Giving your fan a unique look other than its default.
Being able to have such an innovative portable fan serves a lot of other uses as well. Since you can attach the fan just about anywhere you can use it while at home too! If you're using your laptop or tablet you can plug your fan in to keep you cool while you work or surf the internet.  Since its blade less you don't even have to worry about getting hair caught in the blades either.
Our Cool on the Go unit is the perfect cooling solution for everyone. It can be used a number of ways in order to fit just about any lifestyle a person leads. You can even replace the end-caps with different colored ones to represent your team or society that you're in. Being able to show your true colors is a pretty fun way to make your fan match your outfit, too! So many different people make use of this portable fan in their everyday lives. It's a shocker not everyone owns one yet.
We hope you sincerely consider purchasing this amazing product. It stays out the way while also keeping you cool. Since it can be clipped to just about anything you never have to worry about it getting in your way. You can even attach it to the strap of a backpack if you're hiking. The cool rush of air over your face will go a long way in helping you to stay cool. It's an amazing product that is changing the way personal fans are made and used. Purchase one for yourself today!