FLEX ON THE GO 360 – UNIVERSAL 2 IN 1 FLEXIBLE ARM CLIP FOR COOL ON THE GO AND SMART PHONES – 360 DEGREE GOOSE NECK MOUNT CLIP ROTATES & ADJUST IN ANY ANGLE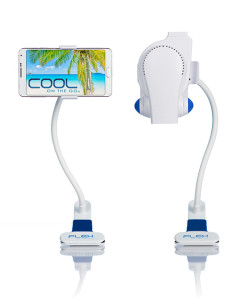 Flex On The Go 360 degree Rotating Flexible Goose neck Clamp Folds and angles towards your comfort. This great for your office or table, in your car, while working, on a baby stroller, kitchen, bicycle, in the bedroom, reading, and relaxing either for cooling or entertainment. Durable desktop holder with a sturdy clip secures steadily on any desk, headboard, wall cabinet, chair and other flat or round surfaces
Smart Phone Clip & Cool On The Go Clip secures your fan and other electronic devices tightly. This way you or your kids can enjoy movies or keep cool with the comfort of not having to hold the phone or fan. Use the proper clip for each device to prevent damage.
Perfect to view phone & enjoy music & phone games or stay cool by the bed, desk, car, beside sofa, workou
t equipment and more Flex On The Go compliments Cool On The Go for added versatility and hands free convenience Great to use as a cell phone camera holder for hands free video taping, taking ph
otographs or selfie
2-In-1 Cell Phone Clip Holder Set – Two Clips features a 12′ long flexible goose neck and a easy-to-install clamp makes it easy when you're on the go.